Description
THE CYBEX PALLAS G I-SIZE CAR SEAT
Security that grows with the child
For years, parents have been choosing car seats from the CYBEX Pallas range to keep their children safe. The Pallas G i-Size is the next generation of this award-winning range, representing years of successful innovation. A car seat that evolves and further improves our already advanced impact shield technology, for even greater ease of use and safety, with a 40% reduction in the risk of neck injury. A car seat that grows with your child, offering over ten years of comfort and protection. Pallas G i-Size: the ideal solution for many years to come, always ready to protect your child.
STANDARDS
UN R129/03 i-Size
HEIGHT
76 - 150 cm.
WEIGHT
From about 9 to 50 kg
AGE
From >15 months to about 12 years
40% LESS NECK STRESS
The advanced crash shield helps reduce the risk of neck injuries in the event of a frontal collision, showing superior performance compared to a seat belt.
In the event of a frontal collision, the child leans forward over the shield, which acts like an airbag, with the force of the impact being distributed evenly over its large surface. This reduces strain on the sensitive neck area and protects the child's head.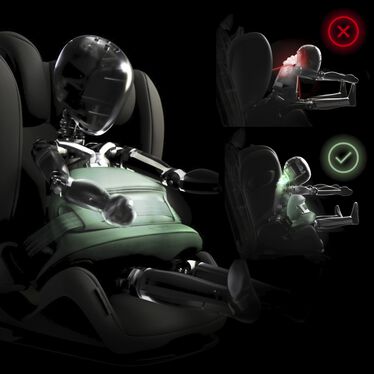 Over 10 Years of Usability
A 2-in-1 seat that grows with your little one throughout their childhood, from toddler to pre-teen. Your child is protected by an impact shield until they weigh 21 kg. Then, the impact shield is removed and the seat is secured by the vehicle seatbelt, providing reliable protection until your child is 150 cm tall (approx. 12 years old).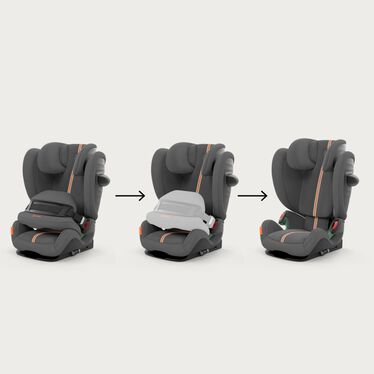 Secures your Child in Seconds
The integrated adjustable impact shield secures your child quickly, easily and reliably. Incorrect securing is a leading cause of injury, and studies show that impact shields have a significantly lower error rate than harnesses³. A convenient buckle system means you don't have to lean over your child or struggle with seatbelts to get them secure. And, an adjustable fit allows plenty of room to grow.

Prevents the child's head from turning forward during sleep
The patented 3-position reclining headrest keeps the child's head within the safety zone, preventing it from rolling forward during sleep. Thus, it provides optimal safety, especially in the event of a side collision. The three recline positions also allow you to find the ideal position that will allow the child to relax and fall asleep.
Superior built-in side impact protection
The integrated System L.S.P. Plus (Linear Side Impact Protection System) of the Pallas G i-Size offers optimized safety in the event of a side impact. The L.S.P. System Plus reduces side impact impact force by over 20% compared to the same seat without L.S.P System
Easy adjustment to a comfortable sleeping position
Keep baby comfortable and happy throughout the ride with the one-handed recline function. Whatever the age of the child, you can easily recline the seat so that the child can enjoy a restful sleep.
Good air circulation, for optimal comfort on hot days
The ventilation system allows air to circulate freely through the seat. This prevents heat build-up and ensures a comfortable seating temperature even on very hot days.
Reviews
No reviews available